The soft yellows of the spiral staircase up to the guest rooms at Arundel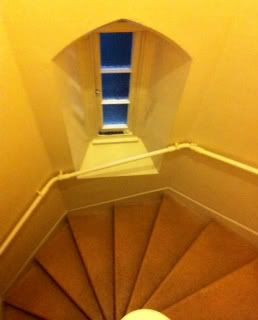 The staircase itself!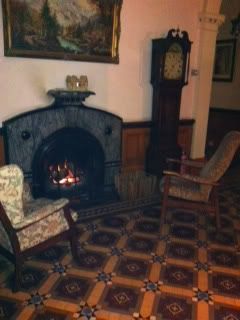 The log fire in the hallway at Boarbank where evening Compline is held
The snowdrops to welcome me in my room.
I made it to Boarbank Hall to the Augustine sisters who invited me for the first time last Easter time. It is such a beautiful place, large expansive gardens, a house full of painted wall panels in the reception rooms and parlours galore!
As this is only my second visit here they sisters are not as advanced as the Poor Clare's who have had my ministrations and bellowing's for around 15 years. I was so pleased to hear however, at our first morning session altogether that they had retained a good deal of what I had taught last year, and the mouth shapes came zooming back to them in a very short time.
Once again, bucking the trend, the community has expanded by four or five, and some who were aspirants last year are now novices, and others on their way to full vows. I am cheered by the influx of new blood I have seen at both places, each radiates warmth, and each deserves the pleasure of a thriving community.
One of the older sisters remarked to me after lunch had I noticed what a cosmopolitan group we were eating around the same table ? Infact we were English, Irish, Singaporean, Chinese, Hungarian, French, and me, a bit of a mongrel in ancestral terms!
The young Chinese lady had me singing in Mandarin !!! I learnt a song with her, in order to help her understand vowel shapes, and how to apply them to her own language. It made Gaelic sound like the simplest language in the known world! With much hand expression, wild gestures and laughing we communicated happily until her 20 minute slot was over. She wants to come back for more, so it must have meant something!
I was much moved to learn that the name Jesus in Mandarin is eminently recognisable as Yesu. Some things cross all barriers.
The two communities are so different, equally warm and welcoming, and most enjoyable to work with. Arundel feels like a group of old friends nowadays, and we work like a hand in a well fitting glove, and I feel as if I am still getting to know the Grange over Sands sisters, but what a joy and honour to spend time with them all. I love the job!
Some photos show how each house has an individual ambience, structure and lifestyle, each wonderful in their own way, and both in terms of the all important gastronomic delights of the table!
(It was Kedgeree tonight ! Yum)