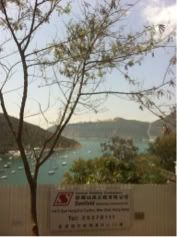 Looks a little like Paradise!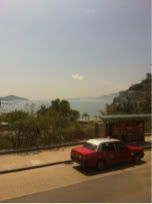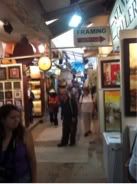 The drive to Stanley and the market
I am back at the Youth Studio venue, which I think I can definitely say is my favourite ! It was the cute 5 and 6 year olds again Group 6 Urban, or something along those lines! I tallied up my classes and at the moment I have written in excess of 2400 crit sheets and had my photo taken about 3 million times ( that is an estimation, but it certainly feels like it).
I was expecting the first free afternoon in 8 working days today, however it was snatched from me as one of the British adjudicators was admitted to hospital last night from the hotel. She caught the flu 2 weeks ago, was only given a half day to recover and then has worked as much as the rest of us. She finally must have collapsed last evening, there is no medical news of her as yet and folk are only allowed to visit at 5pm. So I am covering someone else's singing class whilst they cover her harmonica class. Poor girl, she is in her 30's with a small daughter in the UK, feeling ill and homesick she told me, and should be flying home on Sunday. I do hope she makes it, as the airline will not let her fly is she has anything catching.
I am always astonished by the plethora and variety of English names many of the children have as well as their Cantonese name. This morning I have had, Audrey, Pearl, Ernest, Byron, Ada and Queenie. Such big and old fashioned names for such tiny babes!
Last day off.........we went to Stanley Market. A beautiful fishing town on the south side of Hong Kong Island. We took the bus, which was like being on a roller coaster. The trip over the middle of the island stopped at lovely bays called Repulse Bay and Deepdene, which rather smacked of Hampshire and Dorset in name! The road however was windy and twisty and taking photographs out of the window became an extreme sport.
The market, I remember from 23 years ago, and apart from the availability to pay by plastic, it seems not to have changed at all. The narrow lanes, the sheer volume of silk stuff, hats, scarves and purses was just the same, and the bright colours and sunshine made for a great day out. We lunched under an umbrella by the sea and drank fresh kiwi and watermelon fruit juices. A moment of idyll in an otherwise frighteningly urban and mega fast paced city lifestyle. I relished the cleaner air and the slower pace, even in a market, it bore no relation to the city centre madness that is the Ladies Market or Temple St Market.
By the time we got back to the hotel I think we both felt human again, and as if the city cobwebs were momentarily blown away.
I am now exhausted, and if honest, counting down the days to coming home. Catherine is the 4th adjudicator to get ill, and the 2nd to need the hospital, I am avoiding everything and everyone now, and using my anti bacterial spray with all the gay abandon of a cheap cologne! Keep your fingers crossed for me that I stay well!
Positive thinking.